Virtual Seminar Offers a New Way to Experience the Presidential Inauguration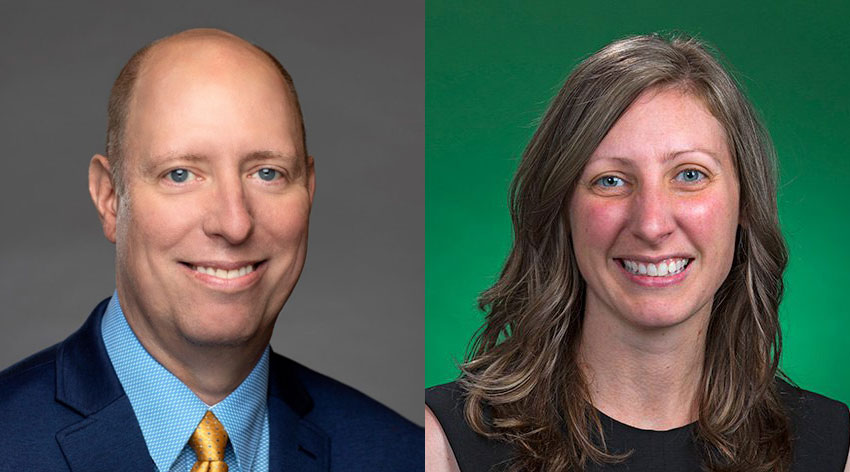 The Washington Center's Inauguration 2021 Academic Seminar (January 11-15) will be held virtually for the first time ever. Past Faculty Leaders explain why you should consider attending.
Scott McLean (above, left) and Erika Cornelius Smith (above, right) have both spent part of the summer during the COVID-19 pandemic shutdown dedicated to academic pursuits. For McLean, a professor of political science at Quinnipiac University, it's a research project about how Gen Z is reacting to the current election cycle. Smith, a political science professor at Nichols College, is "upping her podcast game" and trying to find new ways to engage with her students other than textbooks and lectures. We caught up with them (over Zoom, of course) to see what they think the future of seminars might look like.
TWC's Seminar Goes Virtual
At The Washington Center for Internships and Academic Seminars (TWC), the upcoming Inauguration 2021 Academic Seminar (January 11-15) will be held virtually for the first time ever. McLean and Smith, who have both been Faculty Leaders at past TWC seminars, both agree that while coming to D.C. was a huge draw for students, they should still consider attending virtually in January. 
Smith offers that a seminar is a professional development opportunity, as webinars, virtual conferences, and other online experiences become the norm for all industries and disciplines. "This is a great opportunity to feel what it's like to attend a virtual event, how to ask questions, how to tune in. That's a skill you [already] have, but why not practice it in a safe space with an instructor."
She also can't overstate the unbridled access to the top minds in politics that TWC offers. "This is a week of nothing but the best speakers you can get access to."
McLean acknowledges that the shift from in-person to virtual is something lots of institutions are grappling with and he's still not sure what the answer is. He trusts that TWC will be a leader in finding the answer and that "maybe this is not a setback but an opportunity to find new techniques and use technology in a more creative way."
No matter where the program is held, Smith says that TWC's seminars are an opportunity for any kind of student to bring worth and perspective to any discussion. "A student can come from any background and come with a unique perspective that enhances all of our experiences," says Smith.
TWC Seminar Students Lead the Bipartisan Discussion
While TWC seminars address the same general topics year to year, Washington is a city that's constantly changing and shifting. McLean, who has been attending TWC's seminars since 2001, has found that the person in the White House isn't the only thing that changes year to year.
Over the years, McLean says partisanship has emerged as a major political issue, and TWC has focused on providing a space for students to talk and find common ground. There are always disagreements between students, and that leads to the kind of energy that makes TWC so unique as a learning experience," he says.
He also believes it's the students who are leading the fight for bipartisanship in politics. He says their willingness to learn from each other is rooted in "a kind of patriotism. The students that come [to TWC] really love America, they just have different ideas. […] The students [are] still the ones who seek common ground. The degree of respect between Democrats and Republicans has really been a treasure."
Smith agrees that representing both sides of the aisle is of utmost importance to each student's experiences. Nichols College students attending Inauguration 2021, must commit before election day to ensure they're interested in participating, regardless of who ends up in the White House. "We hoped that that would create a more diverse group. We really wanted to create that environment where students with very different views would come together to talk about their ideas and concerns," she says.
It's Not Just About Politics
A TWC seminar is an opportunity for faculty leaders and students alike. McLean says that his experience as a Faculty Leader has made him a better instructor in general, but especially helped him become a better experiential teacher. "It's relatively easy to stand up on a podium and do a presentation. What's really an art, that I'm still trying to get better at, is how to take an experience […] and turn that into a discussion that gets deep to the core of what politics is about in America."
"I don't know everything about politics. I look at it like continuing education for my own expertise and teaching. To sit on the sessions helps me with my professional development."

Erika Cornelius Smith, Nichols College
Smith likes to think of coming to the seminars as professional development for herself as well as her students. "I'm humble enough to acknowledge I don't know everything about politics. I look at it like continuing education for my own expertise and teaching. To sit on the sessions helps me with my professional development."
TWC also helped Nichols gain the momentum needed to expand their school's political science programs and course offerings. Prior to Smith's arrival and subsequently Nichols' first TWC seminar, there was no political science program on campus. That changed when Smith had the idea to bring business students to a TWC seminar to help them better understand the federal government and how it works. 
This jumpstarted interest in politics and political science across campus. The school added a new minor (Civic Leadership and Politics), expanded the Model U.N. club, and motivated students to seek out alternative internships and experiences. One student, upon returning to campus after attending the seminar, brought some of the discussion tactics she learned in D.C. to the student government to help settle on-campus issues. 
If you're looking to expand your students' knowledge of how democracy works (or just want an excuse to geek out about politics for a week), find out more about becoming a faculty leader. 
TWC is a non-partisan, educational organization that strives to expose audiences to the wide array of perspectives and opinions on current and political issues. The views expressed by interview subjects, speakers and panelists do not necessarily represent TWC's views.