"The Work is Just Starting"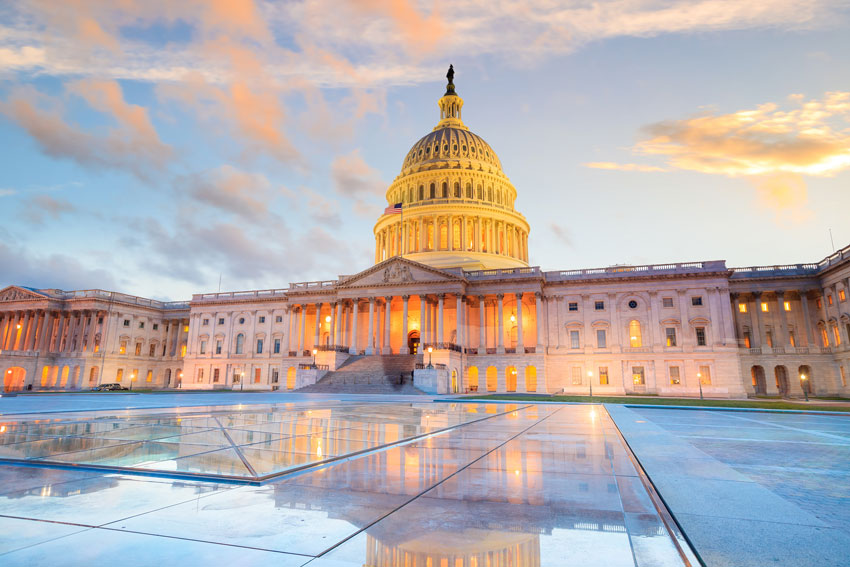 Resurgent Republicans in Congress pose a threat to President-Elect Biden's ambitions.
In presidential election years, the drama at the top of the ticket often overshadows compelling results further down, and 2020 was no exception. Yet as the nation's attention remains fixated on whether President Donald Trump will officially concede, reporters like POLITICO's Melanie Zanona are dissecting Congressional election results – and what those mean for President-Elect Joe Biden's first term.
"Congress holds the keys to any president's legislative agenda, and the Senate gets the final say on who serves in the president's cabinet," says Zanona, who will speak with students attending The Washington Center's Inauguration 2021 Academic Seminar on January 11-15. "Joe Biden has a very ambitious agenda, but it's going to run into very serious headwinds."
Unpacking Election Day 2020
Those headwinds are blowing from a reinvigorated Republican congressional delegation, which largely held its own in the Senate and flipped many more seats in the House of Representatives than expected. The warning lights for Democrats flashed early on Election Night, Zanona says, when Donna Shalala, a former Secretary of Health and Human Services, lost decisively to Maria Elvira Salazar, a longtime television news anchor, in her South Florida district.
"That district went to Hillary Clinton in 2016 by 20 points. It wasn't considered to be in danger," Zanona says. "That was the first sign it wasn't going to be a good night for the House Democrats."
Republicans halved the advantage Democrats won in the 2018 midterms. Many pundits and average Americans were shocked, but Zanona outlines many reasons for the so-called surprise showing. Democrats relied too much on polling and underestimated Trump's popularity in key swing districts. Republican attacks on Democrats, branding them as socialists and tying them to the far-left wing of the party, took unshakable root in the minds of many voters. And Republicans took a page out of the 2018 Democratic playbook, drafting more women and minorities into candidacies than ever before.
"The big takeaway for me, as someone who has covered this for so long, is that we saw a real identity and cultural shift in the Republican Party. Most seats flipped by Republicans were done by women and minority candidates," Zanona says. "It's clearly a recipe for success, and it'll be something they will use to drive to win in 2022."
Currently, the Senate remains deadlocked with two races – both in Georgia – awaiting the result of a Jan. 5 special election. Zanona, however, doesn't see much changing there: "I think [the Senate] will still be in Republican hands, because they only need to hang on to one seat and I don't see the Democrats getting both."
Biden and McConnell: Friends or foes?
With a Republican-controlled Senate and a weakened Democratic majority in the House, does President-Elect Biden have any shot to succeed in his legislative agenda?
It's not going to be easy, Zanona says, but she wouldn't rule it out. A lot will hinge on Biden's outreach to Capitol Hill – a role he spearheaded as Barack Obama's vice president. It will also depend on his ability to work across the aisle, something he emphasized as a differentiator with Trump during the 2020 campaign. Biden has a history of working with Senate Majority Leader Mitch McConnell (R-KY), both as vice president and as Delaware's senator for more than 35 years.
"There's a chance for some compromise, and there's political incentive on both sides," Zanona says. "Mitch McConnell is looking at another tough Senate map in 2022 – lots of members are up for re-election. Biden wants to get his legislative agenda through in the first two years."
There's also the immense pressure both parties will face in addressing the public health and economic effects of COVID-19.
"Coronavirus is only going to get worse in the next few months, and Congress thus far has failed to deliver more aid. They're not going to be able to do anything in the lame duck session, either," Zanona says. "There could be an opportunity, especially in the first year, to get something done on coronavirus and on infrastructure. Those issues have the best shot to get through a divided Congress."
What Lies Ahead for Congressional Democrats and Republicans?
Regardless of the outcome of the Georgia Senate runoff, leadership of the 117th Congress will likely be exactly the same as the 116th Congress. No incumbents running lost their elections, and none are expected to be challenged for their posts.
"It speaks to the power of the current leaders," Zanona says. "Despite grumblings from the rank-and-file, few have the strength and organizational structures to mount a serious bid."
Most congressional Republicans are trying to figure out their path in a post-President Trump environment. There are two camps, Zanona explains: Trump loyalists and traditional Republicans. Some have grave concerns about Trump's continued allegations of voter fraud and its impact on national security. Others have sights set on their own presidential runs in 2024. But all are wary of offending or provoking Trump, who will remain the most powerful force in the party well beyond Inauguration Day.
On the other side, Democrats must quickly pick up the pieces to recover this year's losses in 2022. The party will be electing a successor to Cheri Bustos (D-IL) as congressional campaign chair after a brutal 2020 showing. Who they select will be an indicator of the party's future philosophy.
"[Bustos] was more of a moderate, and her whole pitch was that she could help Democrats make gains in traditionally red areas. That fell flat," Zanona says. "It'll be interesting to see if they go in a different direction. Tony Cardenas of California has a different vision. He's involved with the Congressional Hispanic Caucus and could help make inroads with Latino voters, which we know was a big weakness for the party this year."
Congressional representatives of both parties may have a few moments to breathe during the holiday season. But once the calendar turns to January, all bets are off.
"The real action and work is just starting," Zanona says.
---
Melanie Zanona will be one of many speakers featured at The Washington Center's Inauguration 2021 Academic Seminar. Learn how you can participate, hear from, and engage with Washington, D.C.'s top political experts, thought leaders, journalists and more, on January 11-15, 2021.
The Washington Center (TWC) is a non-partisan, educational organization that strives to expose audiences to the wide array of perspectives and opinions on current and political issues. The views expressed by interview subjects, speakers and panelists do not necessarily represent TWC's views.